Logistik 4.0 - The Future of Intralogistics
IT applications in the warehouse were formerly understood as single components to solve specific defined tasks such as the control and management of a high-bay warehouse.
Today, warehousemanagement systems (WMS) represent the platform for intelligent and smart IT support in the entire intralogistics.
WMS systems as the basis for Logistics 4.0
WMS systems are the drivers of innovations in digitized intralogistics.
The mobile Internet includes each end-user in the process chain. Easy-to-use devices from mobile industrial terminals to tablets and smartphones support decisions.
Language control combined with augmented reality functions create the prerequisites for responding to and reacting to system changes in the short run. IoT components (Internet of Things), such as iBeacons, Coaster or IP-capable systems and systems, can be integrated and linked directly into ProStore®.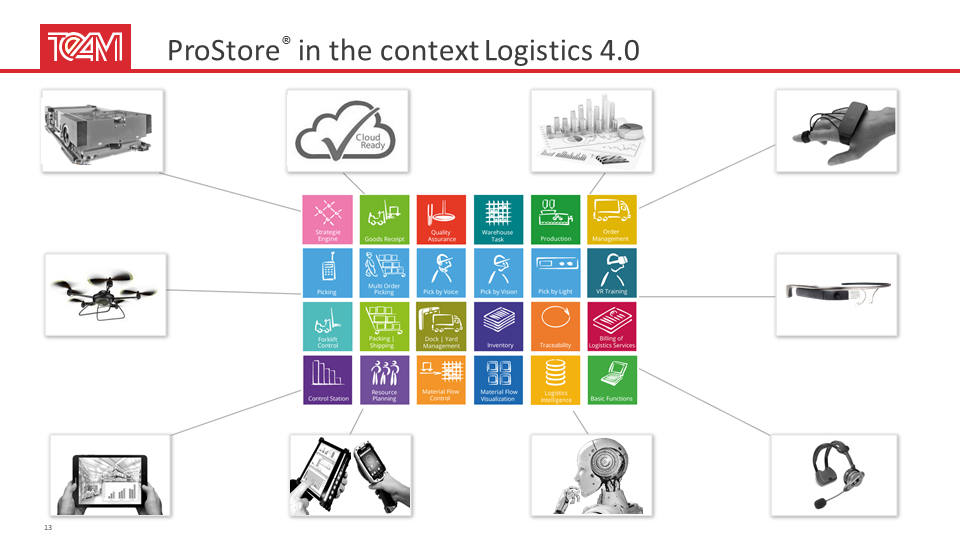 Smart with ProStore®
With ProStore® you create the basis for your Logistics 4.0 concept. Configurable and smart processes support you optimally in order to achieve the best possible results and benefit effects in your logistics.
The diverse granular information is summarized in TEAM's Logistics Intelligence module and can be evaluated at the push of a button. ProStore® can be used on premise or directly from the cloud.
Talk to us and design your intralogistics according to the latest findings – Start in the logistics 4.0 world!
Do you need more information?